DULCE DE LECHE CUPCAKES for AUTUMN
by
bobo
This autumn so far,  I'm in a very Mexican culinary mood – Savory and Sweet – Chile Verdé and some sort of Tamalé thingy are brewing for this weekend.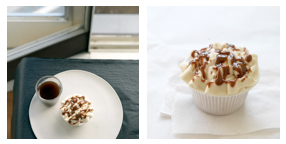 photos by Dierdre Rooney
And for today, Dulcé de Leché (aka cupcakes à la confiture de lait) from my "CUPCAKES" cookbook that you can find here.
Butter, salted(demi-sel)     193 grams
Flour, Type 65      435 grams
Baking Powder     1 tablespoon
Baking Soda      1 teaspoon
Cinnamon     2 teaspoons
Salt     1/2 teaspoon
Sugar     400 grams
Eggs     4 large
Buttermilk (Lait Ribot)     295 ml
Vanilla Extract     1 teaspoon
Heavy Cream (crème fleurette entire)     160 grams
Dulcé de Leché or Confiture de Lait     300 grams
Preheat oven 170°C (350°F)
Sift flour, baking powder, baking soda, cinnamon and salt together, and set aside.
In bowl of a mixer, with paddle attachment, beat butter until soft.  Slowly add sugar and beat until light and fluffy, for about 3 minutes.  Add the eggs, one at a time, beating for 20 seconds after each addition, and scrape down sides.
In small bowl, mix buttermilk with vanilla.  Slowly add sifted dry ingredients, alternating with the buttermilk mixture, in three stages, begin and end with the flour mixture.  Careful, don't over mix.
Spoon batter into moulds prepared with cupcake paper liners, 2/3 full.
Bake 30 – 35 minutes until cake tester comes out clean.  Makes 24 large cupcakes.
While still warm, brush the cupcakes with heavy cream, let cool for a minimum of 1hour, or make a day ahead.
After cupcakes are fully cooled, spoon 1 teaspoon of Dulcé de Leché or Confiture de Lait on top of each cupcake, pipe Vanilla Buttercream, and finish with a drizzle of Dulcé de Leché or Confiture de Lait.
Makes 24 large cupcakes.
Vanilla Buttercream
Butter, unsalted, room temp              200 grams
Powdered Sugar (Sucre Glace)           800 grams
Cream (Crème fleurette entire)         120 grams
Vanilla Extract                                         2 teaspoons
In a mixer with a paddle attachment, place butter & half the sugar in a large mixing bowl, mix for 30 seconds, then add the cream and vanilla.  Mix on medium speed until smooth and creamy, about 4 minutes.  Gradually add the rest of the sugar, one cup at a time, beating very well after each addition, about 1 minute. Continue to beat until the frosting has reached a beautiful creamy consistency. Use immediately or store in airtight container at room temperature, up to 2 days.